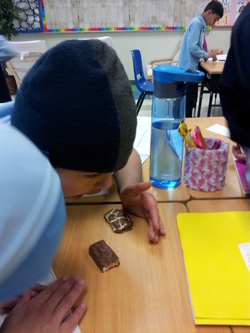 Ameen demonstrates how metamorphic rocks form.
Recently, the grade 3 students had an amazing time simulating the formation of metamorphic rocks. This concept was introduced with a demonstration where crayons were melted as students watched the cocktail of colors fuse together after the heat was removed. The idea stems from the fact that metamorphic rocks form when "heat" and "pressure" are applied to a rock.

From there, we explored the properties of a Snickers chocolate bar and compared it to the properties of a sedimentary rock. Students discovered striking similarities between the two. For instance, one student mentioned how the four interior layers of the Snickers bar reminded her of the striations that are often found in sedimentary rocks. Students were then asked to introduce a creative way of simulating the effects of "heat" and "pressure". Nearly all of the students blew hot air from their mouths as they compressed their chocolaty snacks beneath their hands.......right before they devoured every last crumb.