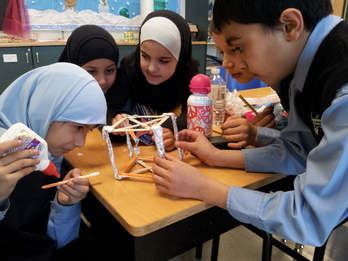 Exploring Methods Of Strengthening a Truss.
Few people enjoy preparing for and writing standardized tests, however, being in the midst of exam week gave these kids every reason to prove what their character is truly made of. Not only did they gear up and prepare to write 7 standardized tests in 7 days, but they also managed to progress in so many other areas, strengthening their overall foundation along the way.

In math class, kids continued refining their division skills as they explored 4 different methods of dividing numbers. In Science class, kids explored methods of maximizing the strength of a Truss system. In Language Arts, we continued investigating themes and emotions in the novel "Charlotte's Web", finding every opportunity to relate them to our own lives. Social Studies was another highlight as these 8 year olds applied what they learned in our public speech unit to deliver an outstanding presentation on Services in Tunisia, India, Ukraine and Peru. They acted as government officials whose job was to make a strong case for the services offered in the country they were representing (See video below). The topic of "depth perception" extended into this week's art class as students used converging lines to draw railroad tracks accompanied by an adjacent road. It was a tough task, but the final product was remarkable. These kids are proving that the journey is often more valuable than the reaching your destination. I would like to thank all of the parents for supporting your children during this challenging week. Your support means a lot to them and is a major reason these kids prospered!

Converging Lines Help Create Depth!

Grade 3 Newsletter
As mentioned in a previous email, we will not be having a newsletter this week due to the upcoming Teacher's Convention. However, I will be happy to give you a general plan of what the grade 3 team has planned.

Math (Division using sharing, grouping, repeated subtraction and using multiplication)
Science (Continue working on stability using Trusses)
Social Studies (Leadership in Peru, Ukraine, Tunisia and India)
Language Arts (Chapter 6-8 in "Charlotte's Web")
Physical Education (Basketball---Shooting Skills)