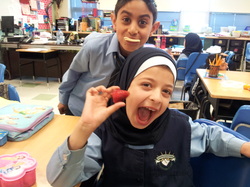 "You are what you eat!" It is one of the oldest cliches ever known to man, but what does it really mean? Until recently, this statement was thought to implicate that your appearance is a reflection of what you eat. Little did we realize how intimate the man vs food relationship really is.

Let me explain what i mean. I am sure that you are all aware by now that food is comprised of fats, proteins, carbohydrates, vitamins and minerals. We have been taught that we need to consume these nutrients as part of a well balanced diet. What we haven't been told, perhaps because it hasn't been known until just recently, is that we are also consuming genetic material. No, I am not talking about your everyday dietary proteins that are responsible for building and maintaining lean muscle mass. I am referring to fragments of RNA molecules called microRNA that, for whatever reason, do not metabolize and degrade in our gut. Rather, these microRNA molecules are absorbed directly through our gut walls and invade our bloodstream. I will refrain from boring you with all of the biochemical details, so here is the general idea. When consumed, microRNA has the ability to turn off certain genes and cause all sorts of serious health implications.

Let me put try to put it to you in perspective. Every thing that you eat or feed to your children has the ability to influence the expression of their genes. Yes, this is a news flash and it brings forth an entirely new meaning to, "you are what you eat". In other words, if you feed your kids the right foods their genes will more likely function the way they are intended to, but feed them the wrong foods and you start a game of gene demolition derby with potentially critical long term health implications.

What Do We Do About It?

Basically, we need to be more aware what we put into our bodies. The food that we eat should be food that our bodies have evolved to consume. With nearly everything these days being chemically altered with chemicals, hormones, it can be a daunting task to figure out what is good for us and what is not. However, we can all take fundamental steps to minimize the consumption of processed food. You know the stuff I am talking about? These items normally sit in boxes and vacuum packs on your grocery store shelves and freezers. It is not uncommon to find upwards of 20 to 30 ingredients listed on their packages.

Grocery Store Tips

-Buy the majority of your food from the perimeter of the grocery store. That is where you will find most of the fresh and wholesome items.

-Stay away from the aisles as much as possible. That is where most of the processed goods can be found.

-Consume foods that have as few ingredients as possible. For instance, if you eat an avocado, you are eating only an Avocado. If you eat broccoli then you are eating just broccoli. However, drizzle your favorite salad dressing from a bottle you bought from the salad dressing isle and your consuming about 15 different chemical ingredients, many of which I can not even pronounce.

But.....Won't Buying Delicious Wholesome Food Break My Bank Account?

A wholesome food budget will indeed cost you more than a budget allocated towards processed food. However, I would like you to consider the following: Many of us are interested in investing in houses, cars, as well as various forms of entertainment. However, think about this for a moment.... Wouldn't it be wiser to reallocate some of those funds so that we are able to invest in the future health of our children. Don't we want to watch them become the best that they can be?

How This Relates To Grade 3

For the past week, the grade 3's have been exploring various topics in nutrition. As of this week, all students are required to bring wholesome foods to school. Barring any allergies, fruits, vegetables, grains(minimal), meat and dairy products will need to be in your child's lunch on a daily basis. Although a grade will be taken for the quality of their lunch, I am hoping with the support of all of your great parents, that an ideological shift will take place among all of our families.

In Conclusion
The ability our food has to control our genes should cause us all to rethink what we put into our bodies and what we feed our children. By making smart food choices, we accomplish two things. The first is we enhance our personal well being and secondly, we model these smart food choices in front of our kids with the hope that they will continue the legacy. Ultimately, you are what you eat and I don't know about you, but I am really feeling like some sushi right about now.