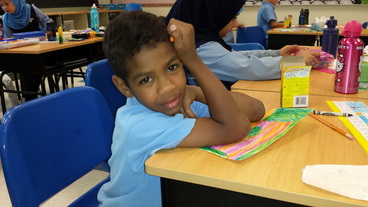 After a well deserved summer, these kiddos came back to school in swarms. In fact, there were so many of them that we had to open a 4th third grade class. It was refreshing and delightful seeing them marching in with their fresh haircuts, pressed clothing and pearly white smiles. "Mr. Melhem, when are we doing gym?" asked one student, moments after walking in on the first day. "We're doing gym alllll day", was my response, which prompted a vibrant cheer from those in attendance.

The first week, like most first weeks, was dedicated towards mastering the classroom routines. Many of the routines were practiced in the context of phys-ed and art. I must have worked them pretty well though as they were more than ready for the weekend after our 3 day work week.

As noted in my introduction letter, which i sent home after the first day, we will be implementing the flipped classroom model this year. This involves the students learning most of the school material at home and then coming to school to do the more involved work. I have recorded a few math videos which are ready to be viewed. More videos will be posted in the coming days. You can access all of this by clicking on the tab called "Lessons (Flipped Classroom)", which can be found at the very top of this page. All of the lessons are accompanied by a video worksheet which I will provide the students with in class. You may also download and print these worksheets using the links that I have provided if needed.

I am so happy to have this group of kiddos. It has also been a great pleasure to have met so many of you parents. I am very excited to meet you all again during our "meet the teacher night" this coming Wednesday. It is shaping up to be a great year, inshallah. I can't wait to get started!