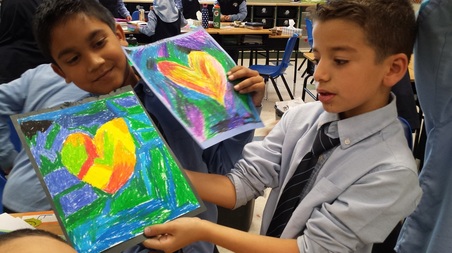 After concluding our investigative study of sky colors and various methods of applying them using oil pastels, we ventured into the topic of color temperatures. We began by analyzing paintings made by world renowned artist, Jim Dine, which generated many "ooh's" and "ahhh's". There was little doubt just how much, Jim Dine's, work inspired the kiddos as can be seen in these photos as well as the video below. To model after Jim Dine's work, students were asked to draw a heart and then use either warm color blends or cool color blends to design the inside of the heart. The area outside of the heart had to contain blends of an opposite color temperature.
Just in case anybody was wondering, there were no templates or cutouts involved. Everything that you see is original work generated from scratch.....the way art class was meant to be. :)
In science class, we concluded our investigation of the properties of rocks and minerals by divulging into the topic of carbonates. Students learned about where carbonates come from and how to test for them. Students tested rocks in the chemistry lab by dropping small amounts of vinegar on them. If fizzy bubbles formed, it was an indication that carbonates were indeed present.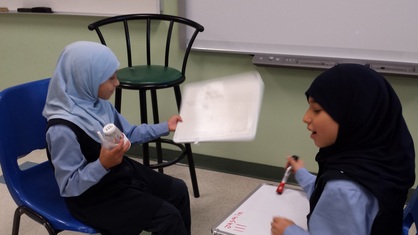 Place value continues to be our focus of study in math class. Students warmed up with a place value game involving Dixie Cups which allowed us to progress into the concept of regrouping unit blocks. Check out all of the action in the video below!
Thursday Is A Big Day!
The wait is over! Our track and field is complete and it will all be official during our opening ceremonies this coming Thursday. To celebrate its completion, we will be holding house league events all day on Thursday. Every student from k-12 has been split up into 4 house teams and they will all be competing in various track and field events on that day.
Raz-Kids Is Back!
http://www.raz-kids.com
A note stating all of your child's "Raz-Kids" login information was sent home last week. Please ensure that your child is reading at least 2 books a day off the website if they are at level P or higher and 3 to 4 books a day if they are below level P. Grade 3 is a crucial year in terms of a child's reading level. Studies continue to show that students who attain grade level reading by the time they finish third grade are much more successful in the following years. That would mean having each student finishing the year at a minimum of a level T. Utilizing Raz-kids on a daily basis will go a long way in helping us get there.
No Newsletter This Week... :(
Instead I have provided you with a general outline of what we will be covering.
Math: Regrouping rods as well as combinations of units and rods. (Expect a quiz)
Science: Review of all of the properties. Hardness chart data analysis. (Expect a quiz)
L.A: Writing sentences involving the sense of sight. Reviewing sentence structure of all 5 senses. Venturing into applying these sentences to real world objects.
Social Studies: Quality of Life in Peru.
Phys-Ed: Track and Field
Art: Contrasting color techniques with fall leaves.
Health: Healthy Relationships.