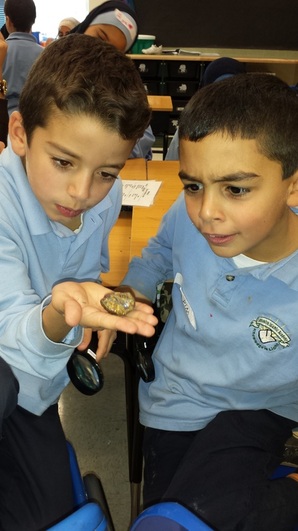 Last Wednesday, we brought in the expert, Mrs. McConnell, to our classroom. Mrs. McConnell organized 5 learning centers in the classroom where my little scholars were able to investigate artifacts that were tens of millions of years old. One particular item included a prehistoric mosquito that was fossilized in some tree resin. How long ago did this mosquito live you may ask? Well, let us just say that it probably managed to take some bites out of a few dinosaurs! That is how cool it was! Fossils, Soil, Gemstones, detective work, and Moh's hardness scale, were all part of our geological journey that day. The expression on my kiddos' faces said it all......they enjoyed every minute of it.


A special thanks to Mrs. Mouallem, Mrs. Sheikhdon, Mrs. Kaddoura, Mrs. Yassine and Mrs. Mariam, all of whom volunteered their valuable time to help facilitate the different centers. You ladies are awesome!


Later on that week, we celebrated the autumn season by collecting leaves to make "Fall Butterflies". Check out all of the action below!