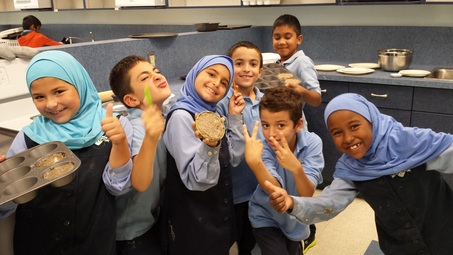 Is it possible to "make" rocks? Absolutely! And the grade 3's got a first hand glimpse of what it takes to do so. Water, sediments, pressure and evaporation is the rock recipe. In nature, it takes millions of years to accomplish this. In Mr. Melhem's "Science Kitchen", it only takes 1 hour! Brilliant, you say? Yes, I agree....and so do the kiddos. In fact, my little scholars did such a tantalizing job that they attracted some of the high school kids to come in. Without notice, some of them began eating our muffin stones only to realize that the pound of sand in each batch didn't make them too edible.

Sometime next week, we will study the effects that weathering and erosion have on our man made creations. Wait a minute! Erosion??? Does that mean we will transform the fruits of these children's labor back into sediment. Do I really have the heart to turn all of the work that they put into this project will turn back into dust?! Yes, but don't worry, the kids had made more than enough rocks to keep one for themselves as a souvenir. Definitely, however, I think the most impressive part of the entire experience was watching these little scientists clean up after themselves. You have to see it to believe it! All the action can be seen in this week's video highlight reel.

Later on in the week, we divulged a little more in depth with the "Hardness Test" by having students perform more specific rock testing and then document their results onto a chart. Chart analysis was, therefore, a primary area of focus and we will continue elaborating on this early into next week. We will keep on "Rocking"!

Good Manners Also Rock!

Our well respected vice principal, Mrs. Tayyaba, had her annual meeting with the grade 3's last week to discuss the importance of proper social etiquette. Everything from proper bathroom practice to appropriate ways to walk in the hallways were mentioned. Mrs. Tayyaba also went into discussing strategies for maintaining and building friendships and then gathered valuable input from her audience. These kiddos were very engaged as you can see below.

Wait!!!! Don't Forget About This Week's Newsletter. Click
here
to get instant access!