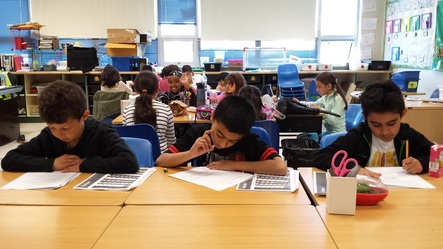 After inviting my students in for an optional review session in preparation for our Provincial Math Exams, I was expecting to see perhaps only a handful of sleepy zombies shuffling in . After all, it was scheduled for 9am on a Saturday after a hard working week. What I got instead was 16 students dressed quite fashionably and with more energy than a firecracker. These kiddos were anxious to learn and traded in their Saturday mornings to do 3 straight hours of math review with me.
(no breaks...because breaks are for amateurs, yeah?)
Leading into the weekend, we had a busy week with many highlights worth reflecting on. Maisun and Mya represented our class in the 1st annual school wide poetry contest and put on an impressive performance...check out Masiun and Mya's killer performances in the video below.
Mrs. Mahfouz was also kind enough to order enough caterpillars for all of the grade 3 students and then volunteer her time speak to uso teach us how to take care of the cocoons and emerging butterflies. The students were fascinated with the knowledge that Mrs. Mahfouz shared with us as can be seen in the video below.
Click here for this week's newsletter.