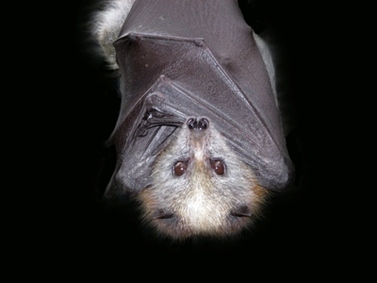 As you can see in the photo, bats do indeed have eyes and can see quite well. In fact, many of them can see extremely well. So where does the statement, "Blind as a bat", come from.
It has to do with the fact that bats come out at night. They rely on echolocation. When a bat echolocates, it releases high pitch sound waves that in turn strike objects in its pathway and bounce back to the bat (sort of like a rubber ball bouncing back to you after you throw it against the wall). By reading these echoes with their ultra-sensitive ears, a bat is able to determine where the object is, the size of the object and whether it is living or non-living. Some bats can even use the echolocation to decide whether a living thing is edible or inedible.
To try and simulate the experience as best we can, the grade threes played the echolocation game. The object of the game is to have one person act as the bat and close their eyes (blindfold recommended) in order create the effect of a bat trying to navigate itself through the pitch black skies of the night.
The student has to tag as many of the other students as they can in 1 minute. Any time the student makes a high pitch "eek" sound, the other students were required to make one in response in order to simulate an echo effect. Check out the video below for all the action.
-----------------------------------------------------------------------------------------------------------------------------------------
Important Information: Please click here to access the notes for the sound unit and click here to access the "parts of the ear" diagram. Originally I had asked that the students review it over the weekend, however, I changed my mind on that. Please take your time as you go through it with your child throughout the week as we complete it in class.
You may also click
here
to access this week's newsletter.
Art/Math News!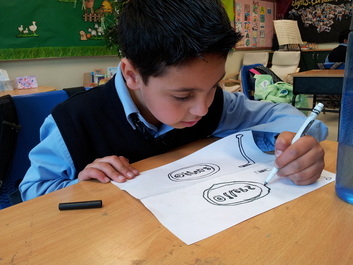 Ameen working hard on reflecting his Oilers logo.
In other news, the grade threes have been investigating reflections and patterns in art class as part of our math/art fusion. We started with water reflections and from there I allowed the students to choose a topic of their choice. After that, I had the students study elaborate shape patterns and allowed them the freedom to get creative with their own elaborate ideas. The pictures below speak for themselves. Can you figure out the patterns?

Water Reflections (Click on images for full size capture)

Patterns (Art/Math)