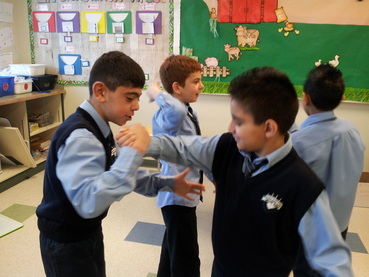 As I walk down the hallway towards my class each morning a handful of early comers can be seen from a distance lunging down the corridor at me. "MR. MELHEM CAN I SHARE TODAY?????!!!!!" is the typical greeting I receive. These kids are excited about life and are eager to share it with the class. It is all part of our daily morning meeting.

Each morning, we assemble in either the school's atrium or in our classroom and commence by having all of the students greeting each other. The salutations range in style from formal handshakes to crafty variations that either myself or the students will formulate.

From there, we shift into our sharing portion of the meeting where a few students voluntarily contribute exciting news and events that are currently happening in their lives. Effective listening and questioning techniques are taught and implemented here. Depending on how much time remains after that, we will transition into a short team building activity before I conclude the meeting with a summary of the learning objectives for the day.

The morning meeting is a time of day when social skills are taught, experiences are shared, games are played and the foundations of confidence and self esteem are established. We have also utilized the idea of the meeting to address any urgent concerns that may have arose during the school day. I recommend it to any teacher seeking to enhance the culture of their classroom as well as to enhance student character.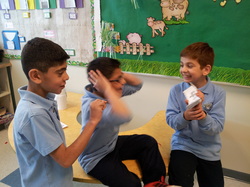 Meanwhile, in other news, the grade 3's continue exploring mental addition strategies. We have currently completed doubles, doubles+1, doubles +2, making doubles, making ten, making multiples of ten as well as front end addition. The focus has been on speed, accuracy as well as both written and verbal expression of the strategies that have been used.