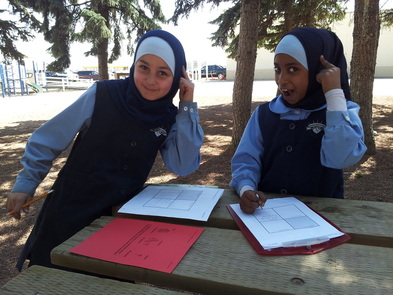 My students are tough as nails. By nails, I am not referring to the plain old iron nails. That is because iron nails rust and break. My students do not rust and break. So, for the sake of this cliche, let me restate my point by saying that they are "tough as galvanized nails"......coated with multiple layers of zinc and whatever else is capable of galvanizing them.

Why am I saying this now? It is because of the weather. Now that May has arrived, we are seeing some amazing weather. Unfortunately, with our school's air conditioning unit not operating properly, my classroom thermometer has officially maxed out and may actually pop at any moment. Nobody has melted yet, so that is good news. However, despite this internal heat wave, my students remain very focused on all of our daily tasks and continue working extremely hard. They are a tough group who should not be messed with. :)

So, to help cool things down a little, the grade 3's have decided to include more gallery walks than usual. If you have never heard of gallery walks then you are really missing out! Gallery walks are a fantastic way of getting kids out of the classroom for the sake of moving around and collaborating with others on specific skill sets and concepts. They rotate from station to station at their own pace and in no particular order. Students are encouraged to engage in meaningful conversation regarding the strategies that they have used to solve the questions and then follow it up by documenting it all on their recording sheets. Check out all of the action in the video below!


Grade 3 Newsletter
Access this week's newsletter by clicking here.