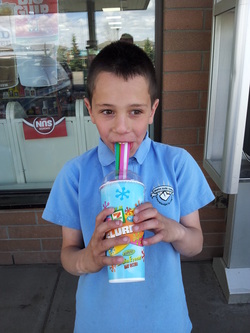 Faris attempts to max out his brain freeze with 6 straws!
The week was marked by jubilation as the grade 3's were very proud to have completed their very first week of final exams. To commemorate this day, I decided to take my class out and buy them slurpees.

That is all the news for this week. Stay tuned for more exciting stuff to come very soon.

*Update* The marks are in and after completing the written portion of the PAT exam, the class average was an outstanding 73%! .......and they are just getting warmed up baby. There is more to come.