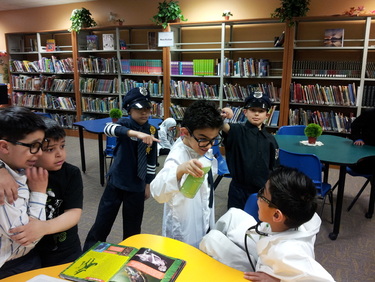 I have not had the chance to update this site in the past couple of weeks. Tamyr has been teething and with that, as you all should know, sleep time has been very difficult to come upon. Ah yes, growing pains....gotta love it! But yes, it is a necessary fact of life because it is the first test among many more to come that will help shape him as a person. "No pain, no gain"....and with "teething pain" comes a lot of gain in terms of setting the grounds for initial character development.

On Friday, April 12 the grade 3's took part in the annual "Career Day" celebrations. We had lawyers, doctors, detectives, scientists, sheikhs, bakers, teachers, police officers, pilots and construction workers. Amidst all of the fun and excitement that went on that day, I started to think a little bit.

Watching the hundreds of students strolling down the hallways of our school dressed up in their cute little outfits and playing make believe, I realized that some of these kids will actually become 'exactly' what they have decided to become on this day. In other words, I was staring at our future doctors, lawyers and police officers in action. On the other hand, other kids will end up changing their minds for whatever reason (some of them changed their mind midday) and things will not work out as planned. That is not a bad thing either because their interests and aspirations will continually evolve in the years to come. Ultimately, however, every single one of the students will share a single common experience. I know what you are probably thinking. What??? Have I gone mad? Am I truly sleep deprived? What common experience could all of these children possibly share from now until the next 20 years and beyond? The common experience that all of these students will share will be the many ups and downs that life will throw at them as they they pursue their goals. No pain, No gain, right??? Yes, but that is only true if you learn from those moments.

In the grand scale of things, their success will depend largely upon their environment and the support network that they will receive along the way. This is where you and I come in. Why do I say this? It is because studies have shown that the greater one's support network, the greater the chances of attaining success. The greater the team of supporters that we can assemble for your child, the better the chances that your child will succeed. This is why we are supposed to hold their hand along the way as we teach them patience, perseverance and dedication. They must learn 'how' to grow when experiencing moments of success and 'how' grow when experiencing moments of defeat.

I remember in my first year of teaching, one of my grade 5 students was very passionate about dinosaurs. It seemed as though it was all he ever talked about. Although he was only 10 years old, he knew right there and then that he wanted to be a paleontologist one day. Well, yesterday after Friday Prayers, that same student paid me a visit at the school. I was happy to hear that throughout all of these years, dinosaurs were still his favorite topic of discussion and he has continued pursuing his dream. He is currently enrolled in the Paleontology program at the University of Alberta and plans to study dinosaurs for many more years. Without the continual support of his family (not to mention the many trips to Drumheller) the chances that this child would have ventured into the world of paleontology might not have been great. It is like the stories we hear from the parents of the hockey stars who talk about how much time and energy they had to dedicate so that their child's dream of playing professional hockey became a reality.

How you choose to support and nurture your child will help determine how far they go in life. Nobody says it will be easy. Character cannot be developed in ease and quiet. Only through the experiences of trial and suffering can character be strengthened, ambition be inspired and success achieved. And to think that it all starts with the pangs of teething.

Testing Bridges

On Friday, we had a chance to test one of the bridges the grade 3's have been working so diligently on for the past few weeks. The greatest challenge the students had to overcome was the length of their bridges. 2.5 feet is no easy task especially when it needs to support a minimum of 20lbs of weight. The bridge below was able to support an estimated 50lbs and would have held more, but the group requested to keep their bridge intact.

Grade 3 Weekly Newsletter
Click here to get your copy of this week's newsletter.