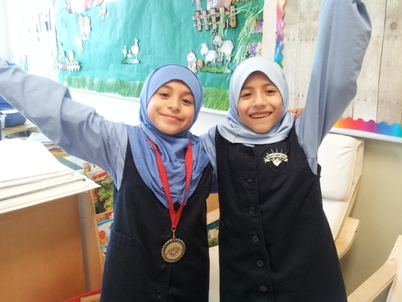 Maisun and Medina celebrate their Gold Medal Victories.
What could possibly be better than a gold medal? Two gold medals! As featured in last week's blog, Maisun and Medina were the two students that I had chosen to represent our class in the 3rd annual, school wide, "Impromptu Speech" contest. They put on an stellar performance that knocked the socks off our judges. In the end, they were both awarded gold medal victories over their competitors who were also fantastic. Congratulations to our two outstanding speakers and congratulations to all of my students who worked very hard during our 2 week public speaking course....all of whom made tremendous gains.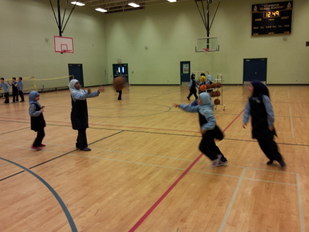 Over the past few weeks, students have been put through some intensive basketball drills during Phys-Ed class. The drills have been focusing on defensive stance, basic footwork, squats, dribbling, and passing. Many of you know that I have been coaching the junior high basketball team and sometimes I catch myself already scouting the grade 3's.....:). In the coming weeks, we plan to continue developing and refining our skill set and taking our game to the next level.


Enjoy the video that I put together showcasing some of the highlights of the week. Remember to like it up and hit the share button.
Grade 3 NewsletterClick here to access this week's newsletter.