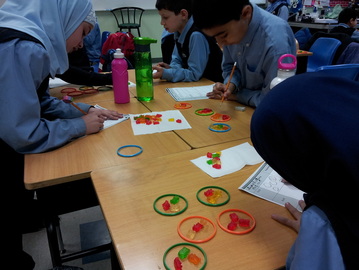 What do you call a bear with no teeth?........................................ ..........a gummy bear, of course. Okay, hold your applause because this was very serious business we were dealing with here; it was an intensive study into the logistics and theory of multiplicative protocol. Okay fine, it wasn't that serious, but we sure did have fun transforming multiplication equations into gummy bear problems.....and ya know, eating them too.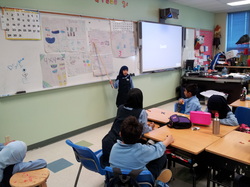 To prepare for the gummy bear activity, each group of students brainstormed various objects around them that could serve as group holders (ie. objects that can hold other things). There were some amazing suggestions some of which included, rabbit holes, flower pots, cereal bowls, hoola hoops, boats, cars and hockey nets. From there, groups planned and designed poster presentations filling their group holders with objects and relating it to a multiplication equation of their choice in a class presentation. Their group presentations were off the charts in terms of coordinating the speakers as well as their public speaking skills. I must take a video snapshot of it one of these days just to show you what I mean!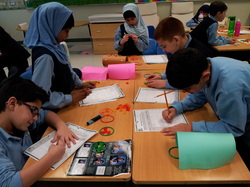 Contrary to popular teaching styles that focus on breaking down multiplication into a few limited facts at a time; this was more of a holistic, right-brain approach to multiplication that combined visual, artistic, tactile and auditory styles of learning with the concepts of multiplication and repeated addition.

The most amazing part is that these students now have the ability to solve any multiplicative equation in just under 2 hours of learning experience. However, judging from the pictures below, I think we all know that they were just in it for the yummy gummy treats... :).