Grade 3A was the talk of the school last week. That is because on Thursday, all eyes were on us as some representatives from 3A led the school's morning assembly. Mrs. Fadwa did a fine job preparing the role of each student and they delivered a knockout style performance. Some of the highlights included Huthayfah's solo Quran recital, Maisun sharing some wisdom from the hadith and an amazing duet performed by Medina and Heediyah that had nearly 700 students clapping to the beat.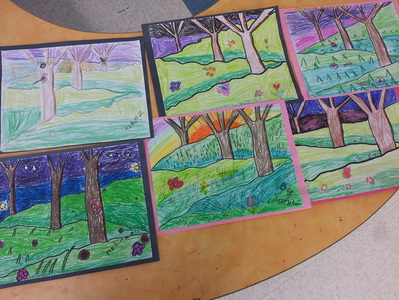 Friday is always Art day and this week, the grade 3's continued refining their artistic abilities relating to depth perception. Like last week, the students were only permitted to use a blank sheet of white paper, a pencil and some oil pastels. There were no stencils used, no outlines to trace over....nothing but pure artistic ability and some fundamental understanding of how our eyes interpret depth in an image. With hard work, you can achieve anything. Amazing work 3A!

GRADE 3 NEWSLETTER
The grade 3 team is very happy to be bringing you another edition of the grade 3 newsletter. Please click here
to download the newsletter.