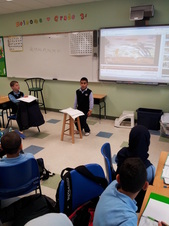 Adam displaying his acting abilities.
Our journey into elaborative writing has taken us from elaborating on characters, elaborating on objects, elaborating on setting and now the topic for this week, elaborating on our feelings and emotions. Students had loads of fun with this current topic as they role played various feelings and emotions such as happy, angry, sad, shocked, cold, hot and many more. This did not leave us with much time to complete any written work as students investigated the most subtle of details for each emotion as well as practiced techniques in order to express them effectively. To further reinforce our study of emotions, we analyzed the strategies used by Disney artists to express emotions in their cartoon characters. We came to realize that just about anywhere we paused the Disney movie, the characters were always expressing some type of emotion. This real world connection inspired an "aha" moment among us.



Some mixed emotions at the football game.
Later on in the week, after the students had become more familiar with the subtle details of each emotion, students were placed into groups and were assigned the task of acting out a particular scenario. The scenarios included, sitting at a football game, sitting in an airplane, taking a trip to the zoo as well as walking around Disneyland. Students in each group were asked to specialize in 1 or 2 emotions that they would likely feel in their particular setting and then prepare to act it out in front of the class as a group presentation. The only condition was that they were not allowed to talk in their skit.....body language was all they were allowed to use. In this coming week, we will take it to the next level and get these ideas down on paper in the form of descriptive paragraph writing.