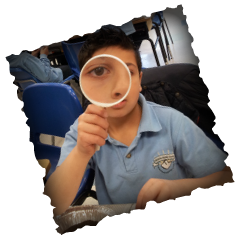 The past month of school has been a blast getting to know everybody. Our daily morning meetings has provided the students with the opportunity to showcase their various interests and ultimately connect with one another. 3A has also been very busy learning. Here is what we have been studying in our subjects...

In science we have been exploring rocks and minerals. Last week for science class, we invited "Indian Jane" to visit us in the classroom and boy did she ever impress us! She set up some learning centers in our classroom and students would rotate through them. We were very happy to have had Mrs. Assaf, Mrs. Haymour, Mrs. Johma and Mr. Saeed come in that morning to help run some of the stations. Ultimately, everybody had a great time and your children learned a lot from the experience. None of it would have been possible without our dedicated volunteers.



In Math class, our focus has been on skip counting to 1000. We have completed skip counting by 1's, 10's, 100's and 5's. We will be finishing skip counting by 25's, 3's and 4's in the next 2 weeks. Students had fun playing skip counting games....one in particular involved a nerf ball, some dice and a whole lot of fun.



The focus in Language Arts has been on descriptive paragraph writing with special focus on writing with expressions using the five senses. Children have been involved in a variety of really cool assignments including ones that involved play-doh creations, photographs as well as video simulations of various settings.

Social Studies has focused on factors that impact our safety, comfort and happiness.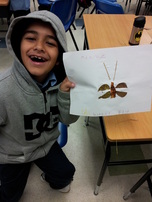 Adam is amazed at how he managed to transform his leaf!
Art class has featured many interesting projects including 3D effects using crumpled construction paper, Fall Butterflies using leaves that we scavenged from the forest, as well as Mosaic design using colored foam. Mrs. Cheikh was kind enough to volunteer her time towards teaching our class how to construct these Mosaics.




You are invited to check back to this website often for further updates. It's shaping to be a fantastic year!

Mr. Melhem